Redash is our take on freeing the data within our company in a way that will better fit our culture and usage patterns.
Prior to Redash, we tried to use traditional BI suites and discovered a set of bloated, technically challenged and slow tools/flows. What we were looking for was a more hacker'ish way to look at data, so we built one.
Redash was built to allow fast and easy access to billions of records, that we process and collect using Amazon Redshift ("petabyte scale data warehouse" that "speaks" PostgreSQL).
Today Redash has support for querying multiple databases, including: Redshift, Google BigQuery, PostgreSQL, MySQL, Graphite,
Presto, Google Spreadsheets, Cloudera Impala, Hive and custom scripts.
Redash consists of two parts:
Query Editor: think of JS Fiddle for SQL queries. It's your way to share data in the organization in an open way, by sharing both the dataset and the query that generated it. This way everyone can peer review not only the resulting dataset but also the process that generated it. Also it's possible to fork it and generate new datasets and reach new insights.
Dashboards/Visualizations: once you have a dataset, you can create different visualizations out of it, and then combine several visualizations into a single dashboard. Currently it supports charts, pivot table and cohorts.
Demo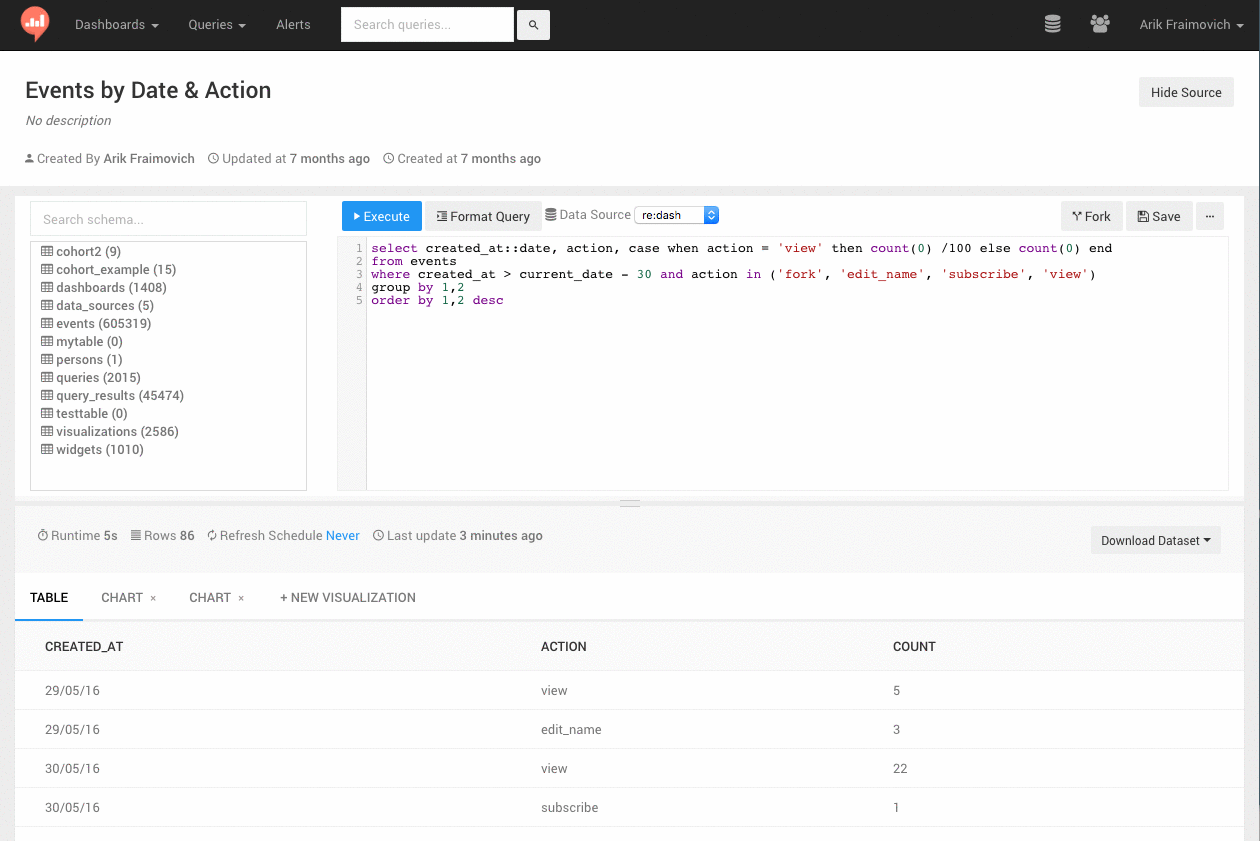 You can try out the demo instance: http://bit.ly/2llrmRr (login with any Google account).
Getting Started
Getting Help
Reporting Bugs and Contributing Code
Want to report a bug or request a feature? Please open an issue.
Want to help us build Redash? Fork the project, edit in a dev environment, and make a pull request. We need all the help we can get!
As far as fruit packaging goes, this is perhaps the least Earth-friendly one by far.
A Hong Kong supermarket has come under fire from shoppers for carrying an elaborately packed single strawberry from Japan.
The strawberry, sold by the upscale CitySuper, is packaged in a box, nestled in a straw nest and fruit sock within. Its price tag? HKD $168 ($21.60).
The uproar started over the weekend, when a picture of the fruit was posted on Facebook.
It soon started making its way round social media.
CitySuper says that the strawberry was packaged this way by the Japanese supplier as a Valentine's Day gift idea.
"The strawberry gift box was imported from Japan with its original packaging given its premium grade, rarity, and fragility for quality protection," a spokesperson for the supermarket told the Hong Kong Free Press. 
The supermarket said that the strawberry's high price was due to its cost price, logistical costs, market conditions and product exclusivity. 
The strawberry was air-flown from the city of Nara, Japan, and has been billed as a "rare" fruit with "good acidity and rich sweetness". 
The uproar about the box comes amidst a petition by environmentalists in Hong Kong calling for less plastic packaging by supermarkets. The petition was launched in January and now has 7,917 signatures.
Environmentalists have also started a campaign, #trashthecheckout, to pressure the city's supermarkets to reduce plastic packaging by removing plastic packaging from fruits and vegetables and leaving it at checkout counters:
Gary Stokes, who started the campaign, wrote in his Facebook post: "If everyone starts to #trashthecheckout then we can only hope that the supermarkets will start listening and begin to source their produce responsibly."
Stokes, who is also Asia director for the Sea Shepherd Conservation Society, told the South China Morning Post that the "heavily packaged strawberry" reminded him "of something out of Mad Max — like it's the last strawberry on Earth." 
via Mashable! http://on.mash.to/2kDitWq